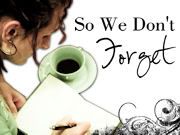 Remember when I used to do Wednesday's Walk? Well, it hasn't completely gone away and there are still two parts of Grady's service that I want to share. But,
Lynnette
has started something new called "So We Don't Forget". You can click on the button above to learn more.
This is my first time participating, and today is a little different in that we are supposed to share one of our favorite main dishes for fall. I have several that I could post, but I've chosen my Taco Soup recipe. I got this recipe from my sweet friend Lee Ann. I have made it countless times because it's hearty, yummy, filling, and best of all, EASY!
TACO SOUP
1 lb ground meat (beef, turkey, chicken)
1 package of dry taco seasoning mix
1 package of dry ranch dressing mix (found in salad dressing section)
1 can petite cut diced tomatoes
1 can Rotel
1 or 2 cans of corn
1 can black beans
1 can pinto beans
Brown meat until done. Mix all ingredients together in pot. Do not drain cans. You can add a little water if soup is too thick. Bring to a boil, and it's ready. Serve with a dollop of sour cream and shredded cheese on top, if desired. Great with tortilla chips for dipping.
YUMMY!
You can make this as spicy as you like. I use mild taco seasoning and mild rotel because of my kids, but you can use the regular or hot versions if you want a little more "kick". I have also made it without the meat before. You can add extra beans to make a hearty vegetarian version.
This is a definite favorite for our family! Hope you enjoy it, too!
Love,
Tonya