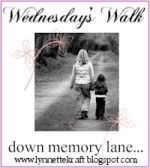 I always wanted four children. Gib always wanted two. I guess, in a way, we both got our wish.
Kind of...
We have two earthly children (Jessica, 10 and Emma Grace, 6) and two heavenly children (one miscarriage and Grady, stillborn at 36 weeks, 5 days on 11-12-08). So, he has his two, and I have my four. Not exactly what I would have chosen for our family. I, of course, wish that we could
all
be together here on earth as one big family.
But I don't get to choose, now do I?
But there's one...
only one
that I got it right with...
Jessica Nicole
And I can't tell you how thankful and grateful I am for her, "the only one"!
I decided to make Jessica's birth into this world my Wednesday's Walk this week. I have written
Grady's birth story
on my blog, and I've also covered Emma Grace's premature birth,
here
and
here
. It's time to talk about Jessica's birth, too!
Last week we celebrated her 10th birthday. It was very emotional for me. Not just because she turned double digits, but because something hit me. And it took me by surprise. The weight and reality of it...
She's the
only one
of my children with whom I had a normal, healthy, uncomplicated, non-worrisome, beautiful, just-the-way-it-should-be pregnancy.
And she will forever be the only one.
Pregnancy is just not what it used to be for me. The innocence of pregnancy was shattered after Emma Grace was born so early at 25 weeks. But the innocence of pregnancy is simply, utterly
GONE
for me, now, after Grady's stillbirth.
Forever!
You see, when I was pregnant with Jessica it was a beautiful, innocent time in my life. I was so naive. Once I made it out of my first trimester with her, I honestly
NEVER
worried about another thing. At that point the biggest concern in my life was how much weight I had gained (50 pounds to be exact!), giving birth to her and proving my husband wrong. Proving to him that I most certainly did
NOT
need any kind of medication to help me bring this 8 lb. 7 oz, 20 inch long baby girl into this world!
And I DID IT!
I proved him wrong and it felt DARN good! I have to say that I think he was shocked. No, I
KNOW
he was shocked because he told me how proud he was of me when it was all said and done.
Labor was long but beautiful.
YES
, I just described labor as beautiful!!!
I labored at home for a very long time, walking around the block, hanging on to Gib when I would have contractions, swaying and breathing through them. He was ready to go to the hospital LONG before I was!
We finally went to the hospital around 10pm, and Jessica was born at 4:23am, May 28, 1999.
I was 3cm when I was admitted. The midwife, Kim, got to the hospital around midnight, and I was 5-6cm, just from sitting on the bed and finishing paperwork. I labored in several standing positions; then Kim suggested the bathtub. I can't tell you how wonderful it was! She had a pillow (still wrapped in the plastic with a pillow case over it) behind me, a towel over my front and I just relaxed in the water. I actually went into a zone, breathed through my contractions and let my body relax to do just what it needed to do. I remember hearing James Taylor playing in the background (we brought our own cd player - come to think of it, I don't think I've listened to that cd since she was born!).
Kim stayed in the room and did paperwork, but she coached Gib and let him take the lead on being my support person. She showed him pressure points to help me, and we changed the water, as needed, to warm it up. She checked my contractions the old fashioned way, pressing on my uterus using her hand, and she timed them with her watch. She used a water doppler to check Jessica's heartbeat.
I was in the tub for about 2 1/2 hours when I felt the urge to (watch out - possible TMI coming!) have a bowel movement. Kim suggested that I get out of the tub so she could check me. Problem was...I couldn't move. My contractions had suddenly turned into something VERY different, and I had the HARDEST time getting from the tub to the bed. But after about 20 minutes, I made it! (And BTW, I did NOT need to have a BM. It was just the contractions of transition that I was feeling!)
I was a whopping 9cm when I got back to the bed. Kim broke my water, and I instantly progressed to 10cm. I started pushing, and Jessica was born 1 hour and 23 minutes later. She was big (and I was so glad because
I
was big!!!).
In the midst of huffing and pushing, Gib couldn't find my mom's phone number in the book. So I huffed it out to him. I had promised my mom that she could be outside the room to hear Jessica's first cry. (Gib and I had decided we wanted to be alone for her birth.) They lived about an hour away from the hospital, and I was so afraid that they wouldn't make it. But, thankfully, they made it with about 5 minutes to spare :-)
Another important piece of information...we did not know if Jessica was a boy or a girl. Her gender was a complete surprise for us, and I swear it made me push harder!!!
She made a funny noise instead of crying. It was a high-pitched yelp/screech/scream. Short, but loud. She would whimper, then make her noise. It was really funny! She had dark hair, blue eyes, and extremely long fingers. Two of the things I loved the most were her chubby cheeks and her chunky, lovable rolls on her newborn legs! I also loved that she didn't have any eye lashes when she was born, and I watched them grow as I nursed her the first months of her life (now they're long and beautiful).
She nursed like a champ, I recovered well, and we went home just like we were supposed to. Two days later, I was wheeled out of the hospital with a baby in my arms.
I'm glad I didn't know then what I know now. I did savor those days, and I do cherish the memories of my pregnancy and birth with her. But I wish I had not assumed that I'd do it again. Because little did I know...
...she would be my only one.
My sweet, beautiful Jessica Nicole!
Thanks for sharing this memory with me today.
Love,
Tonya