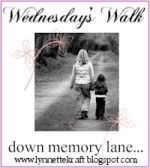 Hi friends!
It's time to take another walk down memory lane today. I have so many things I want to post on Wednesdays, but this is what I've chosen for today.
Jessica was our first miracle and blessing from above. She was a healthy, full-term baby and is such a love. She will be 10 in May and has always had such a sweet spirit. She's also kind, gentle, and
very
funny at times.
This is a memory that I hope to never forget, and in many ways, it feels like it happened yesterday. First, let me introduce you to her when she was three years old.....
This particular summer, I was trying to get in shape, which seems like I'm always trying to do! Aren't we all?!?! I was in my bedroom doing crunches on the exercise ball. I stopped to take a break, still sitting on the ball. This cute, sweet and innocent little girl comes to me, puts her hands on my knees, tilts her head, looks up at me and says, with
much
drama and emphasis.......
"I can't stay here forever and have my life lived for me".
Surely, I heard her wrong.....
"Excuse me, what did you just say?"
Once again, I hear from this sweet, but sassy, little one, with just as much drama, expression, and emphasis as before.....
"I can't stay here forever and have my life lived for me".
There was no way that I could keep a straight face. Needless to say, it was a belly laugh that made
everything
hurt, accompanied with tears and all.
Of course, I
had
to know where she had heard such a thing at such a young age. When I asked her, the answer was simple,
"Jasmine on Aladdin".
Apparently we had been watching too much Princess TV!
Let's face it, we all want to be a Princess in some way, complete with glass slippers and all!
Thanks for reading and sharing this fun memory with me today!
Love and blessings,
Tonya