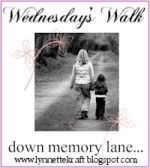 My walk this week happened very recently. This past Saturday, in fact.
One of my very best-est friends, Shana, had her baby last week. When she told me she was pregnant it wasn't long after Grady died. She was very honest, up-front and loving in her approach. In the back of my mind, I told myself that by the time her baby was born, I
MIGHT
be able to hold him/her.
Enough time
might
have passed...
maybe
I would have healed enough...to hold another baby...
She and I have had numerous chats and emails about meeting her baby boy. She gave me total freedom to do what I could and what I needed to when her baby was born. She is one of the most self-less people I have
EVER
met, and I'm so blessed to call her my friend.
I won't lie...I cried when she let me know he was born. I cried honest-to-goodness genuine tears of happiness for her and her husband. This is their first baby.
And...I cried honest-to-goodness genuine tears of sadness for myself.
I
SO
wish our boys could grow up being friends...
I made the decision that I needed to go see him as soon as possible. I didn't want to visit in the hospital because of other visitors, etc. So, I made plans with Shana to take them dinner and have a visit this past Saturday.
It was hard. The anticipation of the visit was much worse than the actual visit. I just didn't know how I was going to react...
I still don't look too hard at babies.
I still turn away when I see a baby carrier.
I still cringe inside when I hear a baby cry.
But I went.
And it was great!
I walked in and he started making noise. Shana was worried but I said, "Let's go see him".
She changed his diaper, and he needed a new outfit. Very powerfully, the urge came over me to touch him. I asked her if I could change him. And I did. Then the best part...
I picked him up and loved on him.
She fed him, and I snuggled him on my chest in a blanket for at least an hour.
It felt good.
It felt right.
Did I miss Grady?
ABSOLUTELY!!!!
Did I feel betrayal to Grady for holding another baby?
Not as much as I thought I would.
Do I regret holding him?
ABSOLUTELY NOT!!!!
In fact, I can't wait to go back!
If you've never gone through anything like this, this moment/memory probably won't carry with it the magnitude that it will for my friends who have lived through the horrible pain of infant loss. (If you're visiting for the first time, you can click on Grady's picture on my left side bar to read his story.)
Slowly,
very slowly
, I'm making progress. The Lord is healing my heart. Slowly but surely I'm getting a bit of my "old" self back. I'll
NEVER
be the same. It's just not possible. I don't ever expect to be. I'm a different person since Grady's death. BUT, I can see light at the end of this deep, dark tunnel of grief.
I am learning and
trying SO hard
to live a life that Grady would be proud of. I would love for him to look down on me and say,
"Yep. That's my mommy. She's a baby-lovin' fool!"
(You can scroll down one post to read where that thought came from.)
Here are a couple of pictures. (Shana made me promise that I wouldn't put the picture of the two of them on here!)
Thanks for walking with me today!
PS. One more thought...on that day last year (June 27, 2008)...we found out Grady was a boy!
Love,
Tonya