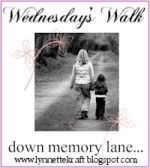 Happy Anniversary Gib!!!
Today is our 14th wedding anniversary! There are so many directions I could take with this post...tell about the whole wedding day, remember the great time we had on our honeymoon, share my favorite anniversary memory, etc. But, instead, I've decided to briefly tell you about the wedding and why I'm so blessed to have this man as my husband.
We have only been married 14 years, but in September, we will have been together for 20 years. That's a
LONG
time! You can read
here
about how we met and his proposal Christmas Eve on the 50-yard line of our high school's football field.
Awwwww, how sweet!
Yes indeed!
We were very young when we married.
Very young and very broke!
I was 22; Gib was 23. He had graduated from his undergraduate studies and was about to embark on graduate school. I was still in nursing school. So, our wedding was very simple.
We had our rehearsal dinner at The Magnolia Tea Room in Stone Mountain, GA. (As I'm typing this, I'm wondering if it is even still there?!) The wedding was at 2pm in the church where Gib attended growing up. Our reception was held in the fellowship hall at the church. It was very simple with a piano player and delicious food catered by a friend's mom from high school.
Two things stand out about the wedding (in addition to the sweet kiss I got when pronounced husband and wife!)...
A couple of weeks before the wedding I was helping my mom unpack boxes from a recent move. I found a tape that said "The Rose". We listened to it, and it was my dad singing the song "The Rose" by Bette Midler. (He had a band for years and was the lead singer and lead guitar player) My dad died when I was 13, and I was very sad that he wasn't here to walk me down the aisle. When I heard the tape, I immediately knew that I wanted it played at the wedding. It was a special way to incorporate him into that special day of my life. We played it right after they chimed the hour. It was first in the ceremony, and there wasn't a dry eye in the church.
It was beautiful!
I didn't know he was going to do this, but the pastor took these lyrics from the song and weaved them into the ceremony.
Just remember in the winter far beneath the bitter snows
lies the seed
that with the sun's love
in the spring
becomes the rose
(Taken from "The Rose" by Bette Midler, www.lyrics.com)
He compared "the seed" to me and Gib, and our love for each other. He went on to say that "With the Son's love" (clarifying that he was talking about Jesus' love for us, guiding us and our marriage) we could, together, become a beautiful rose (holding up a red rose). I remember that it was a beautiful analogy, and one that I would certainly
never
forget!
When the reception was over, we climbed into the limo that my brother rented to take us to the
Chateau Elan Winery and Inn
for our wedding night. The limo was awesome and the food they packed for us was delicious, but there was one problem...nothing to drink! So, the limo driver stopped at a local gas station and got us something to drink.
Too funny!
The next day we headed to Amelia Island for a week-long honeymoon. We stayed at the
Ritz-Carlton
where we were upgraded to a suite for no extra charge.
SWEET!
We had a great, relaxing time hanging out at the pool, the beach and doing a little historical sight-seeing.
Dear Gib,

Happy Anniversary! We've been through a lot in our 14 years of marriage, some good, some not so good, but there's no one else that I would want to journey with other than you. You are quiet...a man of few words. Quite the opposite of me! But I think we balance each other pretty well, don't you? You are an upstanding man of integrity and character who loves the Lord and his family. That, in and of itself, is enough. But you don't stop there. You are my rock, strength, support and voice of truth and reason when my thoughts are jaded. You are a wonderful daddy to our beautiful girls. I love the way you play with them, tickling them, wrestling with them, and always looking for ways to make memories with them. They are blessed to have you as the "man in their life" for now. You are setting the standard high for them in choosing a husband. I only wish Grady had been able to stay here and know you like they do.

Thanks for being the man in my life. Thanks for being you. And...

Thanks for asking!

I love you!

T
Here we are at the rehearsal dinner...
A wedding picture...
Thanks for "walking" with me today!
Love,
Tonya