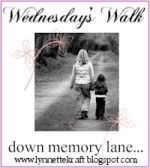 We were so bummed that we missed picking blueberries this year. We don't eat huge amounts of them, but we do love blueberry pancakes and blueberry muffins. I was talking to my aunt yesterday, and she asked us if we wanted to come pick blueberries at her house. We
jumped
on that opportunity. Not just to pick blueberries, but to see her and spend time with her.
Let me introduce you to my Aunt Juanita.
My mom was the middle of three girls, and Aunt Juanita is the youngest. As I'm typing this, I've decided to make this a Wednesday's Walk. I wasn't going to participate this week and was only going to share about blueberry picking this morning, but suddenly it's turning into something more.
SO
fun for me!
She is such a special woman. My mom's older sister, Aunt Helen, is also very special to me. But, I have more memories with Aunt Juanita because she was divorced when I was young and spent LOTS of time with me. I could share a ton of memories with you, but I will share one from childhood and one from adulthood that stand out the most.
When I was little, Aunt Juanita would come visit me (well, she probably didn't come
just
to see me, but I liked to think she did!). I loved this time because she would cuddle on the sofa with me and draw me the most beautiful pictures. She is quite talented, and I used to be in awe of her creations. She would love on me and kiss me until I was blue in the face. But it was never enough. I
LOVED
for her to come visit. (To this day, occasionally I will get a painted envelope in the mail from her with a sweet note in it. Special indeed!)
One of my favorite memories from adulthood happened in the waiting room of one of my mom's doctors. My aunt had brought my mom down for an appointment, and I met them. We were going to have lunch, and my mom was going to come home with me for the afternoon. My mom was back with the doctor, and for some reason I hadn't gone with her. We were sitting in the waiting room and a man walked to the receptionist's desk only to be told he was in the wrong building. The man was so upset because he was told to come to that location and his ride dropped him off and left. He was going to have to walk to another office which was a good distance from where we were. My aunt heard what was going on and immediately stood up. She walked over and asked the woman where the man needed to go. Without a moment's hesitation, she said she would be happy to drive him. She gathered her purse, without any fear, and walked out with that man to take him to his destination. When she left, everyone in the waiting room looked at me in amazement. I have to admit I was a little worried about her safety. After all, this
was
a complete stranger, but I don't know when I've ever been more proud to know someone in my life. She is one of the most selfless people I know. She will do absolutely anything for anyone and would give you the shirt off her back if you didn't have one.
She is a Godly woman, who loves the Lord with all her heart. She is wise, funny, loving, kind, generous, and any other affectionate word you can think of. I love her
SOOO
much!
She has been by my side through each tragedy in my life. If my memory serves me right, she came to Columbus, GA when my dad was in the hospital fighting for his life. He had a terrible accident while we were out of town for the weekend in a little town called Moultrie, GA. I am pretty sure I remember going into the ICU to visit him with her. I couldn't go in with my mom, and I'm not sure why. I think it was because my mom fell apart when we visited, but my Aunt Juanita was strong for me. I was only 13 years old. I'm not sure that I'll ever be brave enough to share the details of it here, but he died and did not come home with us.
When I was on bed rest with Emma Grace, she visited me in the hospital. She was there when the neonatalogist came in to prepare us for the worst. She kept a positive attitude and was quick to remind me that God could do anything.
When my mom was dying, she was there. She visited often and brought food. The week that we knew my mom would go be with Jesus, she came more frequently, brought more food and sat by her bed with me. This was her sister she was losing, and she was sad. But she was still a pillar of strength and an amazing source of faith for me.
Six weeks after my mom died, Gib had a heart attack. Not a true, "blockage" type heart attack, but lack of oxygen to his heart muscle from constriction of an artery. He still had to have a heart cath. I was sitting alone in Gib's hospital room and in she walks with her beautiful smile and a huge hug for me. She said I couldn't be there all alone.
When Grady died, I asked for no visitors. I know it broke her heart (and my Aunt Helen's heart, too), but she respected my wishes and didn't come to the hospital. She couldn't stand the distance that I created between us. A few weeks after, she popped by one day for a visit. Thing was, I had gone to get Emma Grace from school and stopped by the grocery store. She knocked on a couple of neighbor's doors until she got someone and made sure they would tell me that she came to see me.
I think I've painted a pretty good picture of why this woman is so special to me. I have
GREAT
memories of her and blueberry picking today was just one more to add to my memory bank!
We all picked blueberries and ended up with about two gallons. This is Aunt Juanita's husband, Uncle Lawrence. He ended up picking with us too!
Jessica was brave enough to feed the goats but Emma Grace chickened out!
We sat in the swing and enjoyed the unseasonably cool weather this morning.
Emma Grace, of course, cannot sit still very long. She became highly entertained by this huge worm!
Aunt Juanita even taught Gib how to use a skill saw. (I think that's what it was called) I had put the camera away, or I would have taken a picture of that, too!
We had a
GREAT
morning! A day I won't soon forget! Thanks for walking with me today!
"I love you Aunt One Wee Wee!"
(what I called her when I was little)
Love,
Tonya