I feel like I've been missing from Wednesday's Walk forever, but it has really only been a couple of weeks.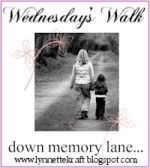 Today I'm writing to tell you about the
perfectly amazing, awesome
balloon release that we did at the end of Grady's service.
(If you missed the first two parts and would like to catch up,
click here
.)
I don't know about you, but I
love
balloon releases! We started them a few years ago on the girls' birthdays. We write a message like, "Thank You God, I'm ___" on a balloon and let it go.
Gib's birthday is on Dec. 4th. This year he came home with some balloons that he got from work. This was only a few weeks after Grady had died, and the pain was still so fresh for all of us. I remember Gib quietly got up from the table, got a balloon and started writing on it. He had tears streaming down his face (I don't see him cry often!). He wrote, "We miss you Baby Grady. We love you!" on it. My memory fails me as to whether we all wrote on a balloon, but we went out into the cold, dark night and released that balloon. It was a moment I'll never forget.
Having said that, I knew that I wanted to do a balloon release at Grady's service. The weather that day was less than ideal. It had been raining the night before, and it was overcast and misting. Not even sprinkling, just misting.
Everyone was instructed to get a balloon (we had blue and white balloons) and write a message to Grady on it if they wanted to. When everyone was done, we walked outside and gathered in a group.
I counted to three, and we released the balloons at once. We sang "Jesus Loves You" (instead of Jesus Loves Me) because, of course, I wanted us to sing it
to him
.
It was amazing what those balloons did. They ALL stayed together! Not one of them strayed. Dr. Joe made the comment, with his arms open wide to the sides, "It's like he's in heaven with his arms like this". That's exactly what it was like!
The shapes that those balloons made is what amazed me most. Now, remember, I had asked God the night before for a sign that Grady was with Him and that all was well. As if the message of HOPE and "the candle" weren't enough, those balloons formed the shape of a lowercase "g", a boy sign (you know, with the circle and the line coming from it and the other line going diagonal? - Oh, I wish I could draw it for you!), a baby rattle, and the Christian fish symbol. Someone else had my camera, so we only have a picture of the fish. But we have the rest of it on video (
ancient video
or I'd try to post it!).
Thanks for reading this part of his service and remembering that special day.
--------------------
Please pray for Kayleigh's family. This sweet baby girl was born severely premature like Emma Grace (this picture reminds me SO much of when Emma Grace was born), but unfortunately, she encountered many difficulties in her short life. After 9 or 10 months in the hospital, she had complications from her last surgery that caused brain damage. Their only wish was to bring her home, but it was not meant to be. She went to be with Jesus Monday night. This family could really use your prayers today and in the days/months ahead. Thank you.
Love,
Tonya