Hi friends!
One of my favorite blogs belongs to
Lynnette Kraft
. She is the one who came up with Wednesday's Walk. Now she's doing something new and different, called "Getting To Know You".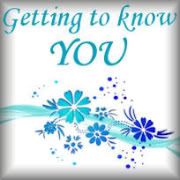 I've chosen to participate to get my blog seen by some more people. I never expect to be big and famous like
Angie Smith
or
MckMama
, but I would like to increase my number of followers and find some new/interesting blogs in the process.
The weather continues to be beautiful! The girls played outside yesterday from the time the bus came until dinner time. They even did their homework outside!
They have their second cooking class tonight. Tonight's theme is "Sleepover". Wonder what kind of foods they'll make for a sleepover? I smell one coming......
Love,
Tonya