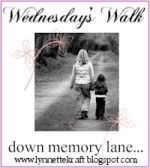 Today's memory is from my little Emma Grace. Since I've previously posted about something cute that Jessica said, I thought it appropriate to post about something Emma Grace said, too.
It was her first trip to the beach, June 2007. She was four years old. It was one of those trips where she repeatedly asked, "Are we there yet?". You know what I'm talking about, right?
We have a DVD player in our van, but do you think she watched it? NO! It was LONG trip, as she
loves
to talk (just like her Mama!).
Since she had never been to the beach before, I was sure she didn't really know what to expect. She had just seen
our
excitement and was happy to be on a trip. A new adventure…..one that included her bathing suit, her Dora arm floaties, sunglasses, and beach toys. If it included those things, then it must be p-r-e-t-t-y fun!
Once we checked into our room, she and Jessica immediately ran to the glass sliding door. (This was not Jessica's first trip to the beach, but I think she was too young to remember our previous trips very well, so it was kind of like a first for her again, too).
They both were in awe. There was a lot of "Wow!", "Cool!", "Look at that!"
I was aware of what was going on at the door, but I was busy trying to get some groceries unpacked and cold things in the refrigerator when Emma Grace ran up to me. Her eyes were as wide as saucers, bursting with excitement, she said,
"Mommy, there are clouds wolling on the lake!"
I wasn't sure what she meant.
"What?"
Same thing, but with much more emphasis, like
"Duh, Mom!"
She said again,
"There are clouds wolling on the lake!"
It took me a minute, and then it dawned on me. She had never seen the ocean before. She saw the waves as clouds and the ocean as a lake. Hence, "the clouds rolling on the lake".
I scooped her up, laughing and loving her
SO
much, and explained what she was really seeing.
That was the only time she has been to the beach, but she is
not
letting us forget that we are going back this summer!
Here are some pictures from that trip for you to enjoy!
Love,
Tonya