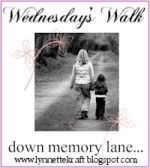 Wednesdays are always sad days for me. Hard as I try, sadness always creeps into my soul. That was the day that I found out that Grady was gone. I tend to relive every minute of Wednesdays, from morning to night.
I found a wonderful blog yesterday with this idea. I thought it would be a great way to try to turn my frown upside down.
Every Wednesday you take a walk down memory lane, hence the name "Wednesday Walk". You can write about anything. Go
here
to read how it all started and officially participate.
I give this wonderful woman full credit for coming up with this idea, but I've decided every Wednesday, I'll post a memory and try to start a memory book for my family as well.
I had a hard time thinking of what I was going to write, but I was talking about my dad this morning at the gym and this story popped into my head.
My dad, Barry, was a very funny man. He loved his beer, too! Sometimes a little too much. (Rolling Rock was his favorite - even named his band after it). Unfortunately, he died when I was 13 years old.
One summer night, my mom was watching the Braves (as in Atlanta), one of her favorite past-times. It was dusk, and as I walked from the breakfast room into the family room, I glanced out the back window. The following conversation took place.
Me: "Uh, Mom, is there a reason the backyard is on fire?"
Mom, very calmly, "What do you mean the back yard is on
fire
?"
Me: "I mean the backyard is on fire. Come look."
She moves faster than I think I've ever seen her move, sees the spectacle in the backyard and immediately calls 911.
When my parents bought that house, they had 42 pine trees removed from the backyard. The stumps had apparently gotten to be too much for my dad to cut around with the lawn mower. After having a few brewskies, he got the brilliant idea to burn those stumps. All at one time!
I was freaking out thinking the fire was going to come and burn our house down. The neighbors on both sides and behind us all had their water hoses pointed toward our yard to control the fire.
I hear the sirens coming to our house. My dad is no where to be found.
After the fires were extinguished, my dad slowly comes creeping out from behind the woodpiles in the far corner of the yard. My mom is furious. That's probably an understatement.
When my dad is questioned as to why he is hiding, he says, "I dropped the gas can when I lit one of those stumps, and I thought I was going to get blown up".
I need to add that my dad was
terribly
scared of snakes. Can't say that I blame him though - I'd take a snake bite over getting blown up, too!
I remember going back to school and having to write a story about something that happened over summer break. I'm sure there were other things to write about, but I chose that experience. I called it "Barry's Backyard Burnout".
That's definitely an experience that I'll never forget!
PS. Lynnette, my favorite game that I used to play with my dad, was TROUBLE. My girls and I love to play it now, too! I think they really just like popping the center button!!
Love,
Tonya