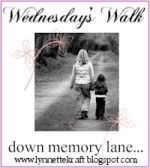 I'm definitely late in starting my post today! I'm curious to see what time I'll actually finish...right now it's 4:39pm. I'll have to stop to make dinner, clean the dishes, and get all of my pictures up, which takes me absolutely forever! So...I'll let you know what time I finish at the end of the post!
I chose our second trip to Disney as my Wednesday's Walk today because we were there exactly one year ago! It was a great vacation! I will share as much as I can with you, but I can't share everything because there is just too much!
I need to preface this memory with a tiny,
but important
, piece of information. I spent this trip to Disney not only in the heat and pregnant with Baby Grady (not yet knowing he was a boy) but also with a broken toe!
Yep
...I broke my toe three days before we were leaving, and my husband re-injured it the morning we left.
(That's another post in and of itself!)
Even though I was in a lot of pain, and could only take Tylenol, I was
determined
that I would
NOT
let it ruin our trip. And it didn't! (However, it wasn't so fun that Gib was constantly at least 50 feet ahead of his hobbling, pregnant wife, scoping out our next adventure! He's the biggest kid of us all when we're at Disney!)
For this trip we stayed at one of Disney's properties, the Caribbean Beach Resort. It was great because once we parked our van, we didn't get back in it until it was time to leave.
Our Disney trip didn't officially start until Sunday, June 15th, Father's Day. We drove down the day before, on Saturday, and stayed in a cheap hotel nearby. That was the night that I spent at the "Quick Care" getting my toe x-rayed. I thought I should know if it was really broken or not before I spent a week walking on it. And, indeed, it was!
Gib recalls that Father's Day as being GREAT! (I love that he has such a great, special memory, too!) Here's a picture of Daddy and his girls....a storm was coming, just in case you're wondering about the fly-away hair! (This was actually later that night after dinner)
We were able to check into our room early and headed straight to Epcot. This is where we discovered our family's favorite ride...Soarin'.
It was GREAT! The girls wanted to go back and ride it several times, but the line was tremendously long. We waited for almost an hour to ride it the first time. We had a "princess dinner" reservation that night at Akershus in the Germany part of Epcot. The food was delicious and the girls were enthralled with the princesses! (There were more than two, but I picked their favorites to share!)
After dinner, we found a great spot by the lake to watch the fireworks, and they were beautiful. Turns out, we could see them at night from where we stayed, just a short walk from our room!
The next day we headed to Animal Kingdom and Magic Kingdom. We spent the morning and early afternoon at Animal Kingdom. It was fun but probably not our favorite of the parks. I was bummed that I couldn't do the Animal Safari because of being pregnant, but I think that was the highlight for the girls.
Here's a picture of the family at the Animal Kingdom entrance. (note the boot on my left foot!)
We had the "bright idea" that we would all go back to the room to take a nap. Therefore, the girls would be able to stay later in the park. The nap backfired BIG TIME! It took them forever to go to sleep and not long after they did, it was time to get up again. We had a dinner reservation at Cinderella's Castle in Magic Kingdom. It was really cool to be at the top of the castle you see when you first walk into the gates, but here's a little tip....the food wasn't that good at dinner, Cinderella is only there for pictures before your dinner, and the Fairy Godmother and Mice aren't really that personable coming from table to table. I hear breakfast in the castle is awesome - we hope to do that the next time we go. (We were late in reserving our character meals. We were thankful for what we could get on such late notice, but Disney is definitely a "live-and-learn" adventure!)
Me and my girls, waiting to be called for dinner.
Cinderella and the girls.
The girls and one of the mice.
Dessert was the best part of the meal!
After dinner, we rode some rides, like Dumbo and It's a Small World. Here we are on Dumbo...
We stayed for the fireworks. We thought we had great seats until the fireworks started. Then we realized.....the fireworks are shot off from behind the castle! We could still see them, but not great.
Another live-and-learn moment
. They didn't start until 10pm, so we were pooped by the time we got back to our room.
We spent Tuesday at Magic Kingdom doing who knows what!?!?!
Everything we could I'm sure!
One thing I know the girls did was the race cars with their daddy!
Tuesday night, we had a reservation for dinner at Rainforest Cafe in Animal Kingdom. We went a little early and rode a couple of rides that we didn't get to the day before. We LOVE the food at the Rainforest Cafe! Of course, the girls had to spend some money in the gift shop before we left!
Wednesday, we went back and spent the day at Epcot. The girls just
couldn't wait
to ride Soarin' again! First, Gib raced to the ride to get a "fast-pass". (If you don't know what that is, you get a ticket or "pass" to come back at a certain time, by-passing the long line). The girls REALLY wanted to ride it twice. So....we waited in line to ride it. Rode it. Got off. Used our fast-pass and went right back in! SOOO much fun!
If you've never heard of Soarin' or don't know what it is, basically you are in a HUGE I-Max theatre. You get in chairs (you
must
take your flip-flops off first!), the lights go out, and the chairs are lifted to different levels. The ride takes you on a "flight" over California's natural wonders, like a river, through the evergreens, over a golf course, through a big city, through ice-covered mountains, etc. Your chairs tilt, wind is blown on you, and even the smell of evergreens is emitted as you're going through that part. VERY COOL!
We spent Thursday at Hollywood Studios (formerly MGM). Jessica loves High School Musical (
and so do I, but shhhh! don't tell anyone!
). We got a great seat for the parade that came through, and Jessica even got to go up and "dance" with them. She didn't really want to.
I sort of made her
. If I hadn't been pregnant and looked like a really big fool,
I might have gotten up and danced, too!
(Can't you tell she's having such a great time!)
We ate lunch at Hollywood and Vine. The food was delicious, and the characters were fun too!
That night we took the ferry to another resort to have dinner. The ferry ride was fun and downtown Disney was beautiful at night!
We came back to our room to find this in our window. The cleaning crew took the stuffed animal that Jessica bought her Daddy at Rainforest Cafe and hung it in our window. CUTE!
Friday was our last day. We checked out of our room and spent the morning at Magic Kingdom again. The Pirates of the Caribbean ride was closed earlier in the week, so that was our main reason in going back. We rode some other rides, too and watched the "Dreams Come True" show in front of the castle.
When we reached our "hot and tired" point, we left to head to my friend Mary Beth's for the weekend. She used to live only 20 minutes from the entrance to Disney, and we stayed with her the year before when we went on our first trip.
It was a great trip! One we'll never forget! We hope to go back and make more memories soon!
By the way.....the day we left and went to Mary Beth's.....soon after we got there.....sitting and chatting on the sofa.....is the first time I felt Baby Grady kick me!
Wonderful memories.....this time last year! Broken toe and all!
Thanks for walking with me today! (PS. It is now 9:26pm and I'm done! I just have to link to Lynnette's Mr. Linky! Have a great night!)
Love,
Tonya