So, I'm shifting gears today. Not sure why. I just feel like it!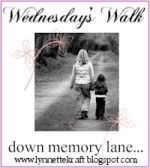 Today's Wednesday's Walk comes from my early days in nursing school. A short story that, looking back on it, makes me laugh!
I knew I wanted to be a nurse. I started out at a local community school, taking my core curriculum. When it came time to apply to nursing school, I only applied to one.
What would have happened if I wasn't accepted?
I'm not sure because I honestly didn't have a back-up plan. I knew that I wanted to go to Georgia Baptist College of Nursing. I applied and thankfully, I was accepted!
So, fast forward through some basic fundamental nursing classes to my first morning of clinicals. This clinical was no big deal. Only the basics needed to be done that day...take some vital signs, give a bath, make sure my patient ate breakfast, and so forth. We weren't even administering any meds that day. How hard could it be?
For me it wasn't
hard
. No.
I was just a nervous wreck!
One big ball of nerves!
I was born and raised in Atlanta but have
always
hated driving in the Buckhead/Peachtree Rd area. That's exactly where the hospital was. Maybe you've heard of it, Piedmont Hospital? Anyway, that's beside the point.
First morning of clinicals, I woke up bright and early. I made sure I had my stethoscope (that was really all I needed since I would only be taking a blood pressure), and I tried to eat breakfast, but I just couldn't. I felt like I was going to puke. I was honestly
that
nervous!
Dressed in my
beautiful, sporty, hip,
all white nursing dress that we were
required
to wear (you know, the old fashioned kind with the zipper up the front and the collar around the neck?).
Yep. That kind.
I headed out the door. But I needed one more thing...
A Dramamine.
Yes. I was that nervous! My stomach was in knots. I was just sure I would be sick if I didn't take one.
So, off to Piedmont I went. I survived the drive down there. Clinical went great. I had a sweet old man as a patient. I think he froze as I was bathing him, but he just smiled the whole time. I think he was just glad to have someone to talk to...
Four years later, at graduation time, we had a party at a local bar/restaurant. Two classmates had printed out "certificates" for everyone. Betcha can't guess what I was awarded....?
"Dramamine Queen"!
For the record...that was the only time I took a Dramamine before a clinical!
Thanks for walkin' with me today!
Love,
Tonya