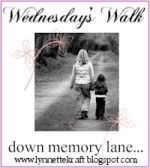 Last week for Wednesday's Walk, I shared the
first part of Grady's service
. In case you didn't read the first part (and don't have time to click on the link above), here is a short synopsis. We waited to do a small "Remembrance Service" for him at our home. We had about 18 people total, including immediate family, my OB (Dr. Joe), his nurse (Nanci), and my two nurse friends (Suzanne and Lori) who came in for my c-section to be there for me, bathe Grady and dress him for his pictures. Last week, I wrote about the message of "HOPE" that was evident throughout that day in numerous ways. Today, I'm writing about the candle.
You might have read about this candle in part one.
I had picked it out, and the store owner gave it to me (she knew Grady's story). It is Grady's memorial candle to light for him on holidays, birthdays, anniversaries and other special days to honor and remember him. This candle was lit for his service and placed on the memorial table with pictures, his gown, his urn and other special items.
The chaplain, Sandi, wanted a way to get everyone involved in the service. She came up with the idea of a "Remembrance Candle". There was one big candle in the middle of many small candles placed in sand in a clay pot.
The idea was that Gib and I would light the large candle that represented Grady's life, since his life came from the two of us (and God, of course!). Everyone else would then come and light a smaller candle from his. They were invited to say something to us or about Grady if they wanted. At the end, Grady's candle would be lit with the small ones lit around it. This was meant to represent that Grady's light and life continues on within us, even though he isn't physically here with us.
It was time for us to light his big candle. Gib and I took our smaller candles and lit them from the HOPE candle that was already lit.
We tried to light his big candle in the center, but it wouldn't light. We tried and tried but it just wouldn't light! (Side note: Sandi had lit the candle earlier thinking it might make it easier to light for us when the time came). My husband, with his sense of humor says, "This would be a really bad sign if this were a wedding" (
chuckle, chuckle
). We tried again to light it. No luck. I look up and there stands Dr. Joe. He very politely and respectfully asked, "May I please pick up the candle?" We said sure. He picked it up, turned it horizontally, and said "Try this."
In that moment, I thought,
"I don't know what I'm going to do if this candle lights with his help!"
To my shock and amazement,
it lit
! It was such a special moment and epiphany for me. (I wish that I could post the picture of my "moment", but in respecting his anonymity, I can't)
Now, you're probably thinking,
"what's the big deal?"
For me, it was the symbolism. Dr. Joe wasn't able to help us have Grady alive here on earth, but he helped us light the candle and give it "life", which represented Grady's life. You see, it wouldn't have meant the same to me if anyone other than him helped us light Grady's candle. He had done everything he could to help us deliver Grady, healthy and full-term. Now he was helping us bring light and life to his candle.
My girls were the first ones to light their candles after us. Jessica wrote a poem (which I'll share in another post) and read it after she lit his candle. Emma Grace was going to say something, but she was too shy when the time actually came.
One by one, everyone came up to light a candle from his and share a word with us. It was a very special time, and a time when I felt so much love. So, if you were here for the service and shared in that memory,
thank you from the bottom of my heart
! Here are all of the candles lit and shining bright.
As Sandi was leaving, she was taking the candles out of the pot. She asked me if I wanted to keep his big candle. Of course, I did. She took it out of the sand and handed it to me. I gasped when I saw it. Here's what I saw...
His candle had burned into the shape of a heart. Not just a heart. A broken heart. You see, it doesn't show up in the picture well, but at the bottom of the heart there is a piece missing. My interpretation is this: the heart represents the love that we have for Grady (and even the love he has for us), but it also represents my broken heart. I couldn't believe that it burned into such a shape.
I wish there was a way to preserve a candle because I will cherish that candle forever! Thanks for walking with me this Wednesday!
Love,
Tonya